When the topic of education comes up in conversation, the usual talking points come up: homework, academic work, and the often dreaded finals.
---
Of course, academic performance is a very important aspect of the future, so students are expected to take this seriously. From figuring out a math formula to understanding how mitochondria power a cell, students of all ages and skill levels will have plenty to do.
A classic question that often comes up whenever a student is out of breath and drowning in textbooks is "how and when am I going to apply all this knowledge in real life?" Obviously, everything learned will serve as a basis for higher education and will be put into practice when it is integrated into the labor market.
But, they will ask again, how will this be applied in the real world? Besides answering trivial questions in a pub quiz, how will this be relevant?
The answer lies in curricula that encourage active student participation, such as the CAS program.
An important part of the International Baccalaureate (IB) curriculum, CAS stands for creativity, activity and service. Each stream complements the student's curriculum through projects that incorporate personal interests and a sense of community, fostering life skills such as collaboration, problem-solving, and decision-making.
An example where CAS can be found is at Sinarmas World Academy (SWA). Based in BSD, South Tangerang, Banten, SWA offers an international education program from early childhood through to grade 12, integrating the National Curriculum and Cambridge, as well as IB.
Talk to Jakarta PostSWA CAS coordinator and (acting) SA coordinator Elma said the program applies to students in grades 11 and 12 as part of the IB Diploma Programme, a two-year pre-university program that focuses on both knowledge and self-actualization.
(Courtesy of World Academy of Sinarmas)
"The idea is that [students] can take what they learn in the classroom and apply it to real situations, to real problems they are trying to solve, so they can take ownership and make sense of what they are learning. For example, while learning about social entrepreneurship in the classroom, they set up an online charity shop and use the proceeds to help build toilets for a community they work with," she explained.
"We start early from grade 6, and by the time they are in grade 12, they will have six to seven years of experience leading collaborative projects, participation, direct and indirect service delivery and advocacy. problems."
Elma highlighted the size of SWA, which she described as "not too big", as being able to provide more opportunities for students in their projects, as well as teachers and professors to support students in their interactions.
"For students in grades 11 and 12, the CAS is an essential part of their IB curriculum and we think rightly so, as it differentiates each student from their peers. They may have similar grades, but in terms of the project experiences they have had, these are the aspects that set our students apart. This unique experiential learning journey helps them succeed in college applications and scholarship interviews," she said.
Beyond textbooks
A student's program of study is expected to provide the individual with a broad and comprehensive range of knowledge, enabling them to integrate seamlessly into their chosen major and profession.
According to Elma, CAS complements this by providing students with "the intrinsic motivation to make the most impact," locally and globally.
"The thing about CAS and Service as Action [SA] it's that we don't judge [students] on the time they spend, for example. We don't have percentages to score them. It's a different satisfaction when they were able to achieve their goals or overcome obstacles. […] It's about developing leaders, creating changemakers and helping students make an impact in the real world," she said.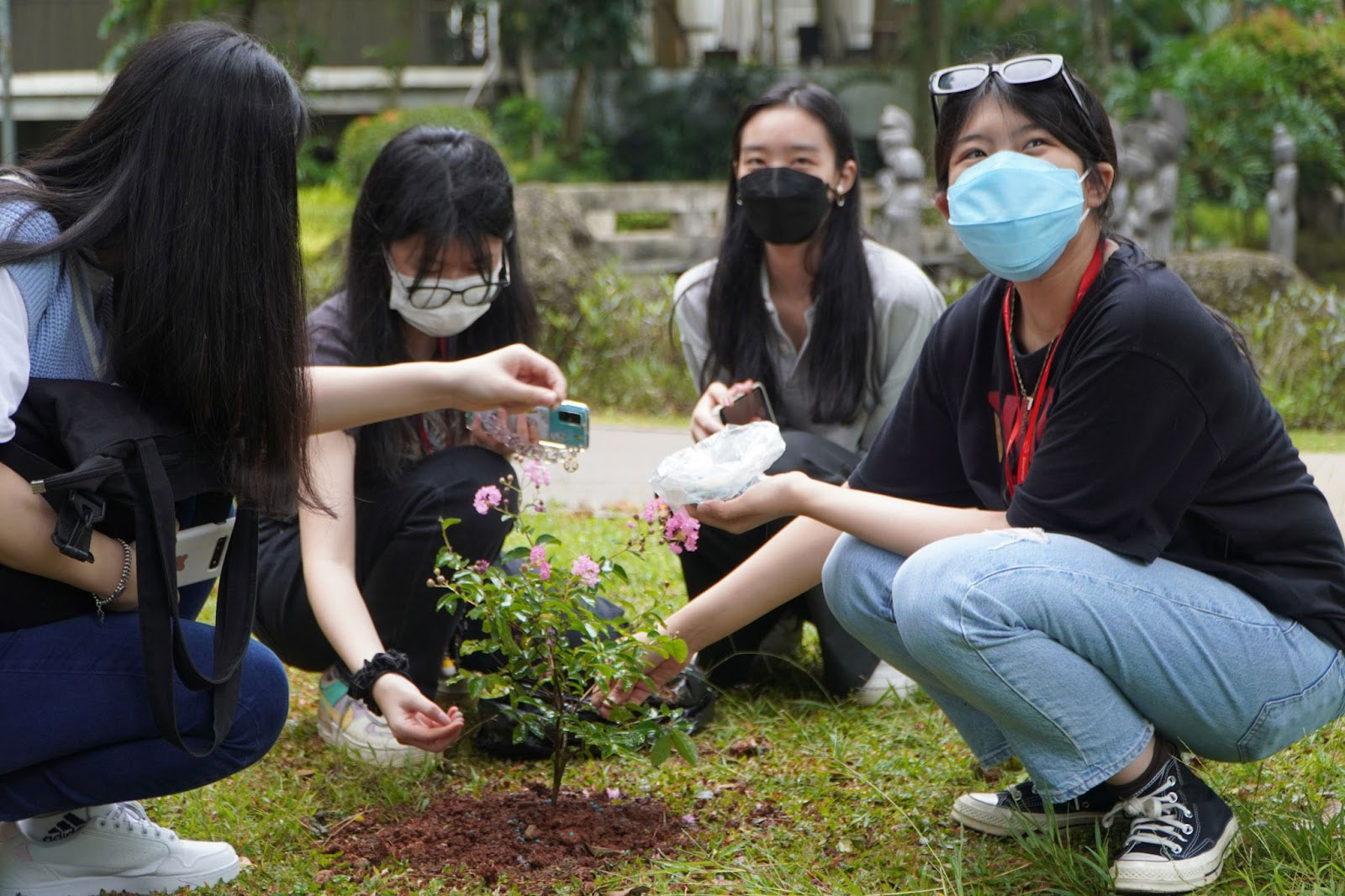 (Courtesy of World Academy of Sinarmas)
Elma noted that even though the CAS is a core requirement of the IB curriculum, SWA students go beyond the checkbox, describing them as "quite ambitious" in setting their goals and also very determined in their efforts.
The 18-month CAS program itself allows students the freedom to pursue their interests and the group of their choice, as well as the freedom to plan and organize their own initiatives, with teachers serving as supervisors.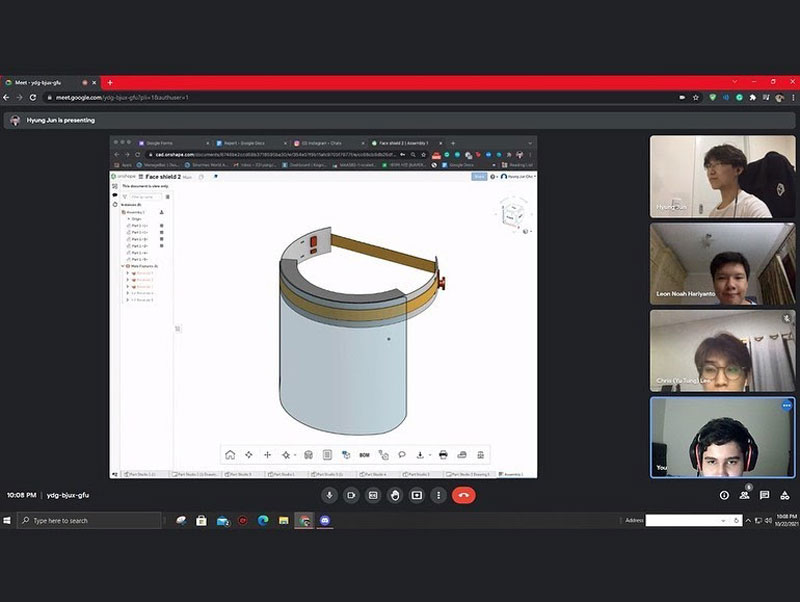 (Courtesy of World Academy of Sinarmas)
Recent examples of projects include producing face shields using recycled materials to benefit local clinics and health centers, printing vegetarian cookbooks featuring Indonesian, Korean and Western dishes contributed by the community and cooked by the students, as well as the creation of bilingual storybooks to give away. to nearby schools.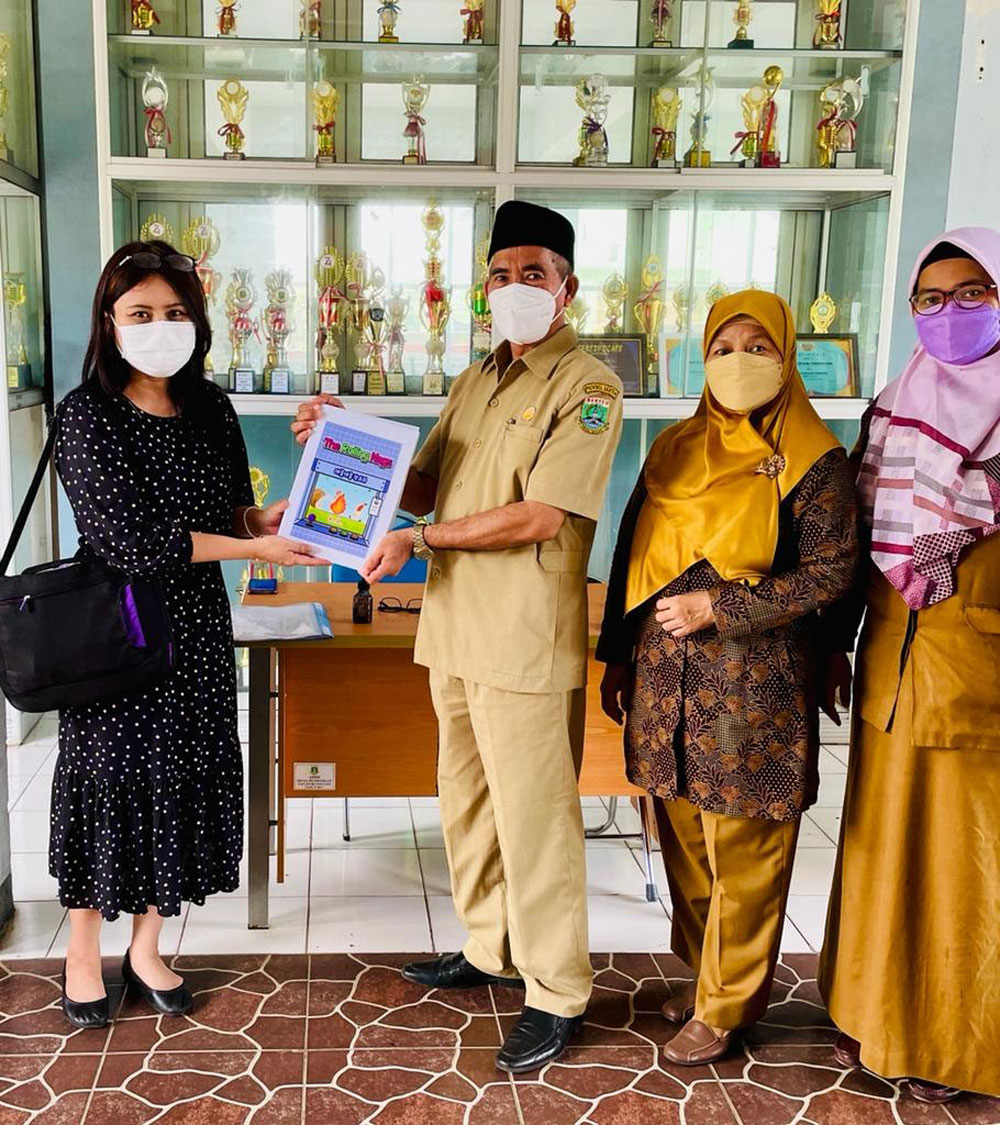 (Courtesy of World Academy of Sinarmas)
As an extension of an IB award-winning student's personal project to create an application for ancient Javanese script, a project group has been formed with the aim of preserving the Javanese language and culture. The students collaboratively produced informative videos in English and used their creative talents to compose original music, mixing Javanese with modern elements.
To gain valuable insights and relevant, up-to-date advice from practitioners, SWA students also held leadership workshops on "Youth Leadership in a Pandemic," featuring a guest speaker live from headquarters from the World Health Organization in Geneva, Diah Saminarsih, Senior Advisor on Gender and Youth to the Director General of WHO. When she came to Jakarta, a few students had an extra chance to have a round table and presented a sign of appreciation from the school.
(Courtesy of World Academy of Sinarmas)
At the same time, projects can also focus on current and pressing issues. For example, SWA students organized direct actions to benefit victims of major flooding in East Nusa Tenggara and the eruption of Mount Semeru last year.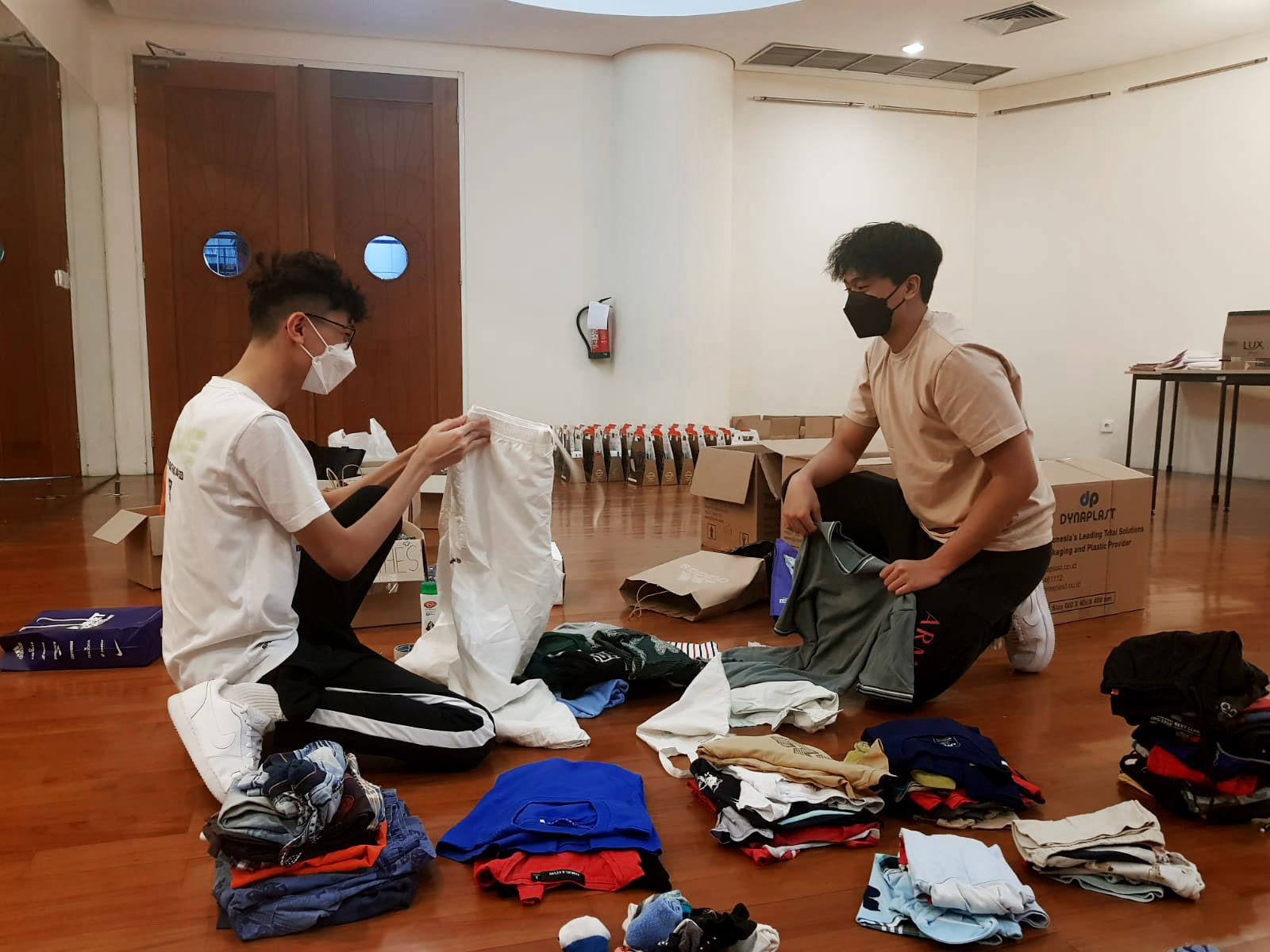 (Courtesy of World Academy of Sinarmas)
A notable CAS project undertaken by the current group of students is to set up online teaching sessions for students in Sumbawa, West Nusa Tenggara which started in November 2020 and is still ongoing to this day. As part of a multi-group collaborative project, SWA students take turns teaching online every Saturday morning. The student-led initiative won third place in the CAS Project Challenge global competition organized by CAS Trips.
Find the right balance
Anyone who's ever been a student knows how difficult it is to juggle multiple assignments and projects while still allowing some time to rest and relax. Current students may also testify to the need to deal with the still-ongoing pandemic, which further limits their study and recreation options.
Even so, SWA students seem to carry on with their studies and projects smoothly, with many happy with the school's emphasis on a more hands-on approach.
Sherry, a 10th grade student, noted that the SA program she and her classmates are undertaking is a new approach to the learning process. The program that begins in sixth grade, she says, provides students with an outdoor experience beyond the usual academic writing and grades in their regular classes.
There are many similarities between the SA and CAS programs, one of which is their perspective of giving back to the community. In one project, Sherry and a friend took an online medicine course on Coursera to teach first aid, while at the start of eighth grade she taught elementary school students how to create trash cans out of recyclable water bottles.
"Personally, I found that I learned so many skills that I couldn't learn in school, for example communicating with younger students, problem solving, as well as inquiry skills like discovering what we want to do. I think it shaped me as a completely different person," she said, adding that learning in a fun and hands-on way is a great opportunity for every student.
Meanwhile, Evelyn, a 10th grader, said SA and CAS activities provide a different kind of satisfaction than getting outstanding grades in her studies. The feeling of getting an A, she said, passed quickly, but the sense of accomplishment that came from seeing the project she had worked on for so long come to fruition was more long-lasting.
(Courtesy of World Academy of Sinarmas)
"I'm one of those who teach the Saturday morning sessions, so every Saturday morning I get up at 7 a.m. and I'm like, 'Do I really want to do this today? I'll do the lesson and would call [my friend] and being like 'the kids were so nice today' while we look at the pictures of them happy," she recalled.
"I think it feels good to do good for others, and SWA has really helped us develop that empathy, compassion, and intrinsic motivation."
---